The real voyage of discovery consists not in seeking new landscapes, but in seeing with new eyes.
In search of lost time, Marcel Proust.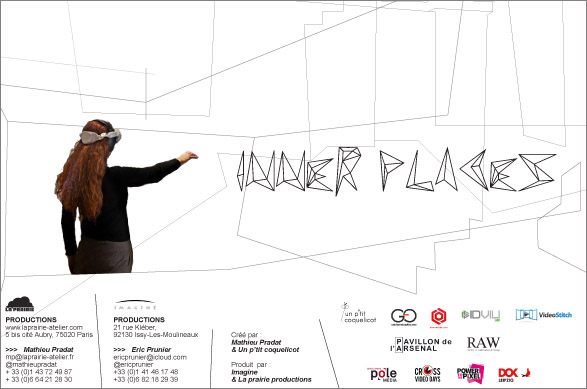 Pitch
INNER PLACES is a transmedia immersive experience that brings you to encounter artists and places that tell them.
Planning
December 16, 2016 in Paris. Participation in the round table Virtual Reality & New Grammar organized by Blumenlab.

June 11, 2016 in Paris. Pitch of the project at the Cross Video Days.
May 5, 2015 in Paris. Presentation of laureate at Pôle Média Grand Paris / Labo 2015.
October 31, 2014 in Leipzig. "Inner places" is selected at the Conference day of DOK Leipzig's festival.
2014 october 9th in London. Following the Pixel lab, "Inner places" is part of the pitching session of Power to the pixel's Cross media forum. 
development
Selected at Pôle Media Grand Paris & Pixel lab.
Partners : Pavillon de l'Arsenal & Raw Gallery

Immersive documentary - written and directed by Mathieu Pradat - graphic concept by Marie Eve Roques for Un ptit coquelicot - development by La Prairie productions and Eric Prunier for Imagine productions - webdevelopement Frédéric Quin at globglob créations - scenario SACD n°261253.

In preparation ... shhh !